SA58 Range Ready Series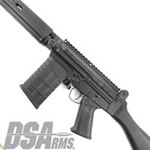 The DS Arms Range Ready Series of SA58 FAL Rifles was built and configured to get you on the range and shooting right out of the box! Coming direct from the DS Arms factory with some of our most popular upgrades installed; SAW Style Pistol Grip, Ambidextrous Magazine Release, Enhanced Winter Trigger Guard, Non-Reciprocating Left Side Enhanced Profile Charging Handle & Extreme Duty Scope Mount make the Range Ready Series of SA58 FAL rifles the perfect choice for adding a FAL to your collection. In addition to these upgrades the Range Ready Series of rifles feature a 4150 - 11595E Steel premium barrel; different barrel lengths & profiles available on different models. This premium Mil-Spec grade barrel is mounted to you choice of our 4140 fully machined & heat treated receivers; Type 1 with and without Carry Handle Cut as well as a Type 2 with Carry Handle Cut.

The DS Arms Range Ready Series of SA58 FAL rifles has all of the Fit, Function, Features and Quality that you have come to expect with ANY DS Arms product and is sure to be a great addition to your collection!