Optics → Accessories → DSA FAL SA58 ACOG Cut Extreme Duty Scope Mount & B.R.O. Battle Rifle Optic Package - Standard Length
DSA FAL SA58 ACOG Cut Extreme Duty Scope Mount & B.R.O. Battle Rifle Optic Package - Standard Length
DSA FAL SA58 ACOG Cut Extreme Duty Scope Mount & B.R.O. Battle Rifle Optic Package - Standard Length
Purchased as a bundle you save nearly $35.00
The DS Arms Extreme Duty Scope Mount for the FAL rifle is the gold standard across the world for being able to mount any type of optic to any type of FAL rifle. Whether your rifle is a Metric Pattern, Common Wealth Inch Pattern or even one of those creations that fall somewhere in the middle, the DS Arms Extreme Duty Scope Mount will fit your FAL. With multiple versions and designs there is a DS Arms Extreme Duty Scope Mount to fit your FAL.
This specific model is designed to fit any Fixed Stock Rifle. This model features a custom channel milled down the middle of the rail to allow for a Trijicon ACOG to be mounted directly to the rail. This design prevents the ACOG from having to be installed onto a mount and then installed onto the rifle, thus elimanating any cheek weld or eye relief due to the optic being to high up.
DS Arms B.R.O. (Battle Rifle Optic) 4x Prism Scope - Trilux Reticle
The
DS Arms B.R.O. (Battle Rifle Optic)
4x Prism Scope with our Improved Trilux Etched Glass Reticle is just the right mix for extended but fast target acquisition.
This Prismatic Red Dot Optic is incredibly durable, and designed to handle heavy recoil and extreme conditions. The
DS Arms B.R.O. (Battle Rifle Optic)
scope features a mounting footprint that allows for a more rearward placement of the scope for optimal eye relief all while offering the extra needed clearance for your rear sights that is missing on many of our competitors scopes.
The historic Trilux reticle was originally developed for the SUIT scope which was fielded on commonwealth FAL L1A1 SLR rifles. The distinctive reticle is an obelisk pattern. This obelisk comes down from the 12 o'clock position. Because of this design it does not obscure or block out potential targets when compared to more traditional reticle designs.
10 red illuminations settings give a wide range of brightness levels and the "Easy grip texture" on the illumination and ocular(eye) focus rings allows for fast and easy adjustments. Ships with a standard M1913 Picatinny mount installed for fast and easy installation. The
DS Arms B.R.O. (Battle Rifle Optic)
4x Prism Scope is also compatible with ACOG/M16 carry handle cut mounts and for FAL owners DS Arms offers a specific ACOG cut Extreme Duty FAL Scope Mount that allows use for the factory standard sights via a see through port under the scope.
Removable the top-mounted accessory rails are included, giving you the option of piggybacking a reflex-style red dot sight at the 2 or 11 o'clock positions.
The superior glass quality of the versatile
DS Arms B.R.O. (Battle Rifle Optic)
4x makes this a must have for shooter seeking a reliable and durable
Battle Rifle Optic (B.R.O.)
.
Specifications:
Waterproof
Fog Resistant
Shockproof
Multi coated lens
Red Illumination - 10 brightness settings
Easy Grip textured Illumination adjustment ring
Trilux Bullet Drop Compensation
Easy grip Textured Ocular focus adjustment ring
Uses one CR2032 3V Lithium Coin Battery (included)
Includes Lens Cloth
3 Year Limited Warranty
Product Dimensions:
Weight, Side Rails Installed: 1.08 Lbs.
Weight, Side Rails Removed: 1.02 Lbs.
Package Weight: 1.68
Length Of Base: 2.75"
Overall Height: 3.25"
Overall Length: 6.10"
Overall Width: 2.4"
Scope Mount Specifications:
100% U.S. Manufactured By DS Arms.
Zero Movement Design.
Requires No Gunsmithing For Instillation.
Requires No Modification To The Upper Receiver.
Replaces The Traditional Stamped Steel Top Cover.
The Thickest Wall Construction Of Any FAL Scope Mount Made.
Easy Instillation Design Utilizing 5 Hardened Steel Lock Plates & 10 Custom Made Hardened Steel Screws.
Upper Rail Is 1913 Spec. Picatinny Covering The Top Of The Entire Receiver Allowing For Adjustable Placement Of Optic For Best Eye Relief.
Accepts All Types Of Quality 1913 Spec. Picatinny Rings, Mounts, Bases And Accessories.
Features Numbered Slots To Be Able To Return Optics To The Correct Location.
Open Rear Design Allows For Easy Removal Of Bolt & Carrier Assembly For Cleaning And Maintenance.
Large Contoured Ejection Port To Help Avoid Case Damage And Extraction Stoppages.
Machined From Military Grade Lightweight Aluminum Material.
Hardcoat Anodized Per MIL-A-8625F, Type III, Class 2 Finish.
Manufactured Holding Extremely Tight Tolerances On All Surfaces.
Fits All In Spec FAL Receivers, Both Metric And Inch Pattern.
Only FAL Scope Mount With Attachment Holes For Quick Detach Brass-Savr Bag, See Related Items
Customer Reviews





(0.00)

stars out of 5
(Only registered customers can rate)
Related Products
5 Total Related Products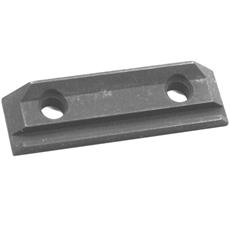 DSA FAL SA58 Lock Plate For DS Arms Extreme Duty Scope Mount - All Variants
Item#: 620APLATE